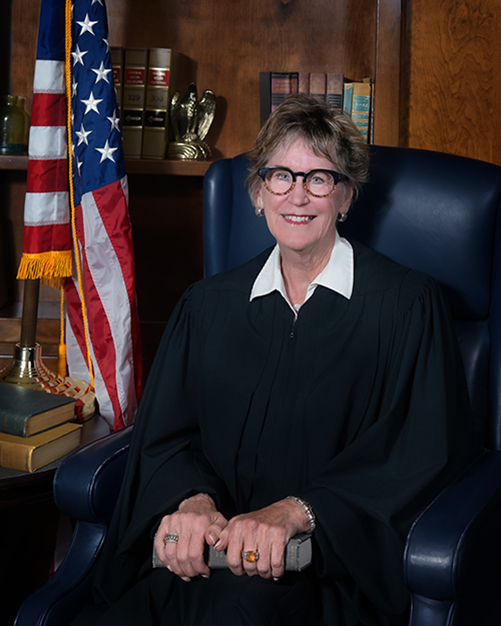 Senior Judge Kathryn H. Vratil is the 23rd judge and first woman named to the U.S. District Court for the District of Kansas. Judge Vratil graduated from the University of Kansas Law School, where she was a member of the Order of the Coif, a scholastic honorary, and the Board of Editors of the Kansas Law Review. Judge Vratil began her legal career as law clerk for the Honorable Earl E. O'Connor, a distinguished member of this Court, from 1975 to 1978. She was Judge O'Connor's first female law clerk and both of them were proud and delighted when President George W. Bush appointed her to fill Judge O'Connor's seat in 1992.
Prior to 1992, Judge Vratil's experience included 14 years of private practice and partnership in what is now the Lathrop GPM law firm in Kansas City, Missouri, specializing in commercial and business litigation. She also served as Municipal Judge in Prairie Village, Kansas.
As a federal district judge, in addition to her case-related responsibilities, Judge Vratil handled court administrative duties as Chief Judge from 2008 to 2014. She also served for nine years on the Judicial Panel on Multidistrict Litigation ("MDL"), from 2004 to 2013, and presided over nine MDL dockets. She has served on various committees of the Judicial Conference of the United States, including the Committee on the Administrative Office of the United States Courts (2000-2006) and the Committee on Judicial Conduct and Disability (2015-2019). Judge Vratil was a member of the Board of Directors of the Federal Judicial Center (2011-2015) and chaired its District Judge Education Advisory Committee from 2006 through 2009. She was a member of the Tenth Circuit Judicial Council (2002-2004), and also held various leadership roles in the U.S. District Court for the District of Kansas. Judge Vratil served on the Board of Directors of the Federal Judges Association from 2014 to 2017.
In 2016, the KU Law School honored Judge Vratil with its Distinguished Alumni Award. In 2019, she received the "Hon. Joseph E. Stevens, Jr. Aspire to Excellence Award" from the Kansas City Metropolitan Bar Association. The Institute for Complex Litigation and Mass Claims at Emory Law School recently recognized Judge Vratil as a national trailblazer in promoting diversity in leadership roles in complex class action and MDL litigation, and she has been a frequent speaker on this issue.